our fleet of vehicles and boats
Now we can run on self-produced energy from our solar system
- who could think of this about the Karlsson family - but we are curious about new technology, and here in Gotland it can work well with electric cars, the distances are short and the ladder is fine.

We also work with our Energycenter and there we show eldery times to present times about energi and fuels, we can tell aboute latest technology.

Now we have a 4,5 year with it and can probably be said that we are running just as usual, just remember to load it at home.

When you visit us, you are welcome to do a test trip, we work on different energy solutions and also look at the hydrogen conversion for our older cars.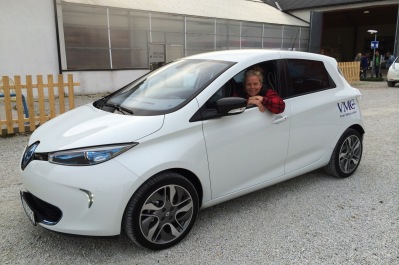 Electric car Renault ZOE 2014
Electric car works well on Gotland where the distances are small and with this car we drive on self-produced energy from the sun!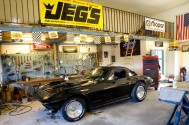 Chevrolet Corvette 427/435 1967
Corvette from 1967 is one of the most coveted muscle cars of the 60's.This car was sold with a powerful 427 cubic inch big V8, according to the manufacturer the engien did about 435 horsepower, now sits a race version, about 560-580 horsepower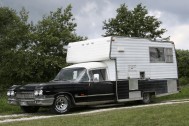 Cadillac RV Miller Meteor 1960
A very unique motorhome construction from the U.S., is built on the same chassis as some ambulances and hearses, but this has been delivered by Cadillac and its affiliates
Miller-Meteor, to a Camper Manufacturers, which was completed on behalf of clients.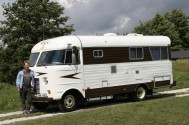 Dodge Chinook RV
Mobillodge 1969
Series Made motorhome from Chinook based on the Chrysler 300 chassis, it is a wonderful untouched original condition, tends to be someone trip to various car shows.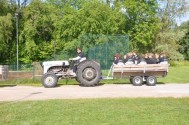 Little gray Fergie
1952-1953
We have some old diesel Fergie tractors that you can rent and take a trip down to the sea, they are from 1952 and 1953, a little easier when it's diesel than if they were petrol / motor kerosene, which was common at that time, we have renovated to retain a patina of style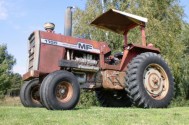 Massey Ferguson
1155 540 cui V8
Our BigFun tractor, is a very rare Massey Ferguson from the mid 70's, it is a "Platfom model" delivered at no additional equipment and without a cab,
but with an amazing 9-liter V8 engine. comes from Chicago, Illinois USA.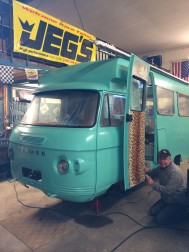 Humber Commer RV 1969
Motorhome
English built motorhome that became driven from Cyprus to Gotland 1997
Ongoing renovation.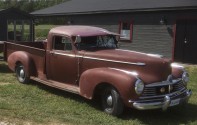 Hudson 1947 Commercial
Six Series 58 Pick-up
Now we have found our favorite pick, is completely free of rust and we want to try to keep a little patina on it.
The car comes from Bingham County, Idaho, United States.
We manage to find one in almost untouched condition, great fun car!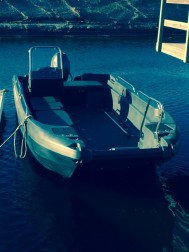 PIONER MULTI 2019
70 hp Yamaha
We have acquired a new boat that we are very pleased with, it is basic with a quiet 4-stroke, but it is nice that you can drive on wheelchairs, easier for disabled and elderly to come in and out when there is a ramp which falls down on boarding and boarding!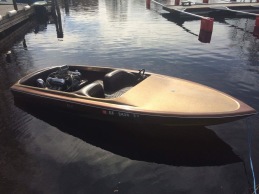 Fast Fun Boat in Excellent Condition.
1971 Tahiti jet boat with Olds 455/365HP and 484 Ft.lbs of torque. Berkeley Jet drive, 50-52 nots in the river of Närsån, great fun!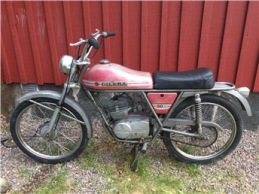 Gilera Touring 50 5v 1978
Moped from Italy, imported and therefore 5 geared, have also found the moped that a had as 15 years old, it will be renovated a little first, is 4 geared. severel moped mettings att us, so plan yours!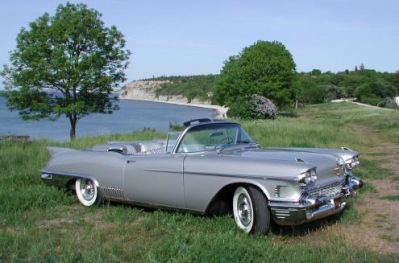 Picture from a wedding run at Fridhem, south of Visby.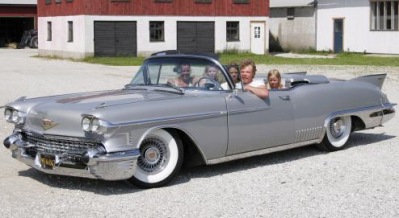 Cadillac Eldorado Biarritz 1958
"SOLD". We have to bring a fantastic car that we sold a few years ago, it was renovated for a few years, and became very expensive to renovate, so the explanation way we sold it! most likely that it was owned by Bobe Hope!